BIG TALK QUESTION CARD GAME 2.0 - 150 NEW QUESTIONS TO SKIP THE SMALL TALK
Regular price
$30.00 USD
Sale price
$25.00 USD
Unit price
per
Share
View full details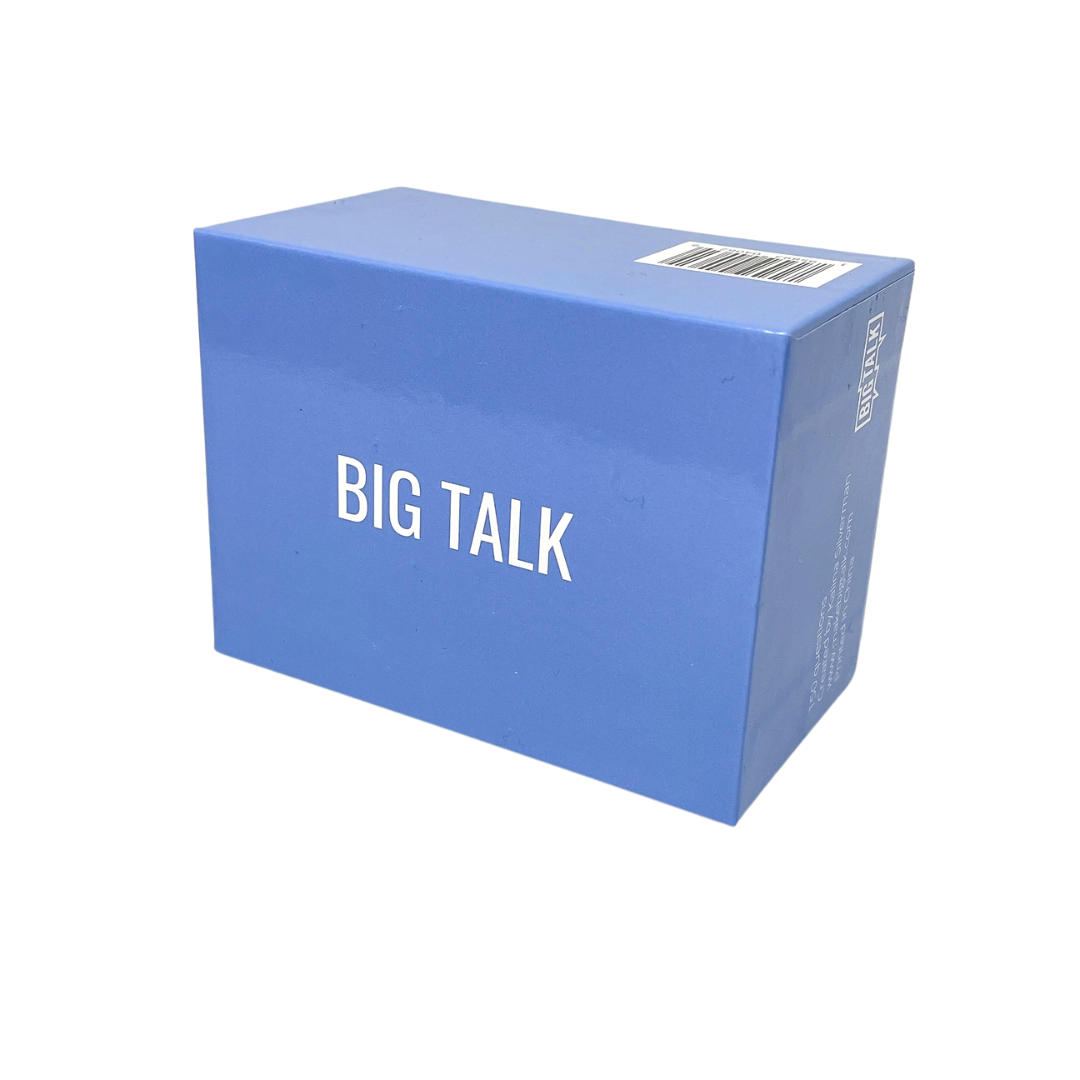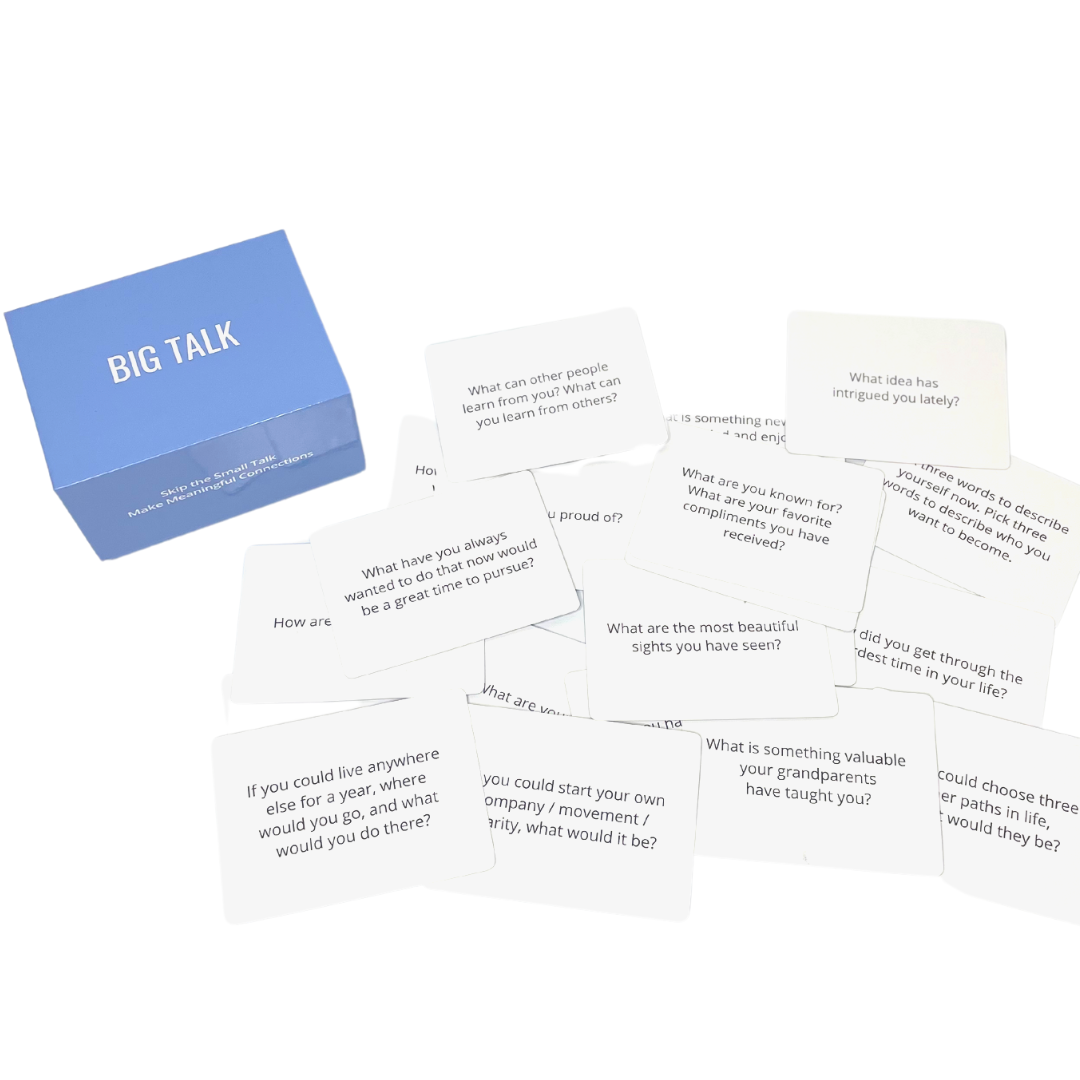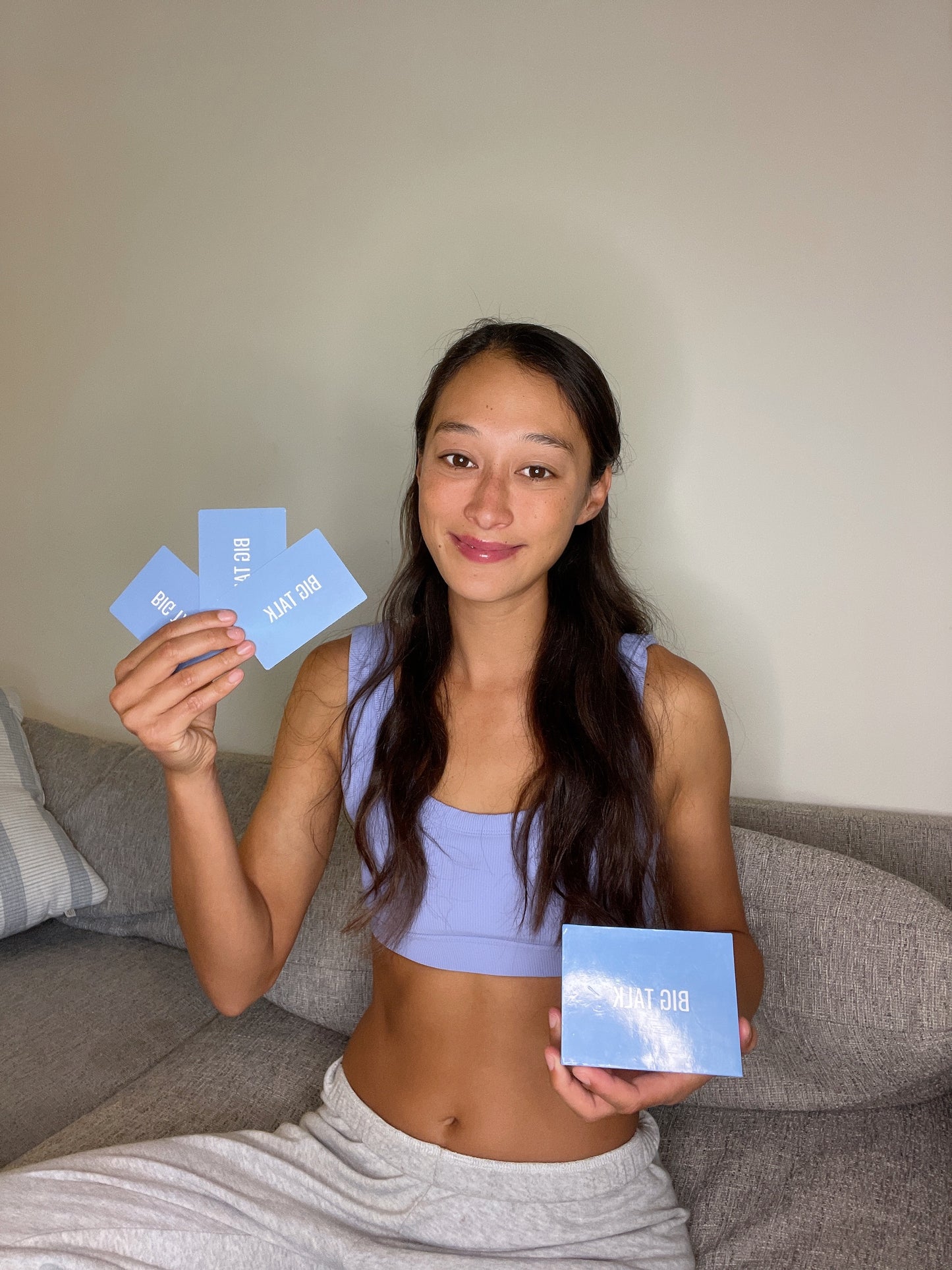 THE ORIGINAL BIG TALK QUESTION CARD GAME
Regular price
$25.00 USD
Sale price
$20.00 USD
Unit price
per
Share
View full details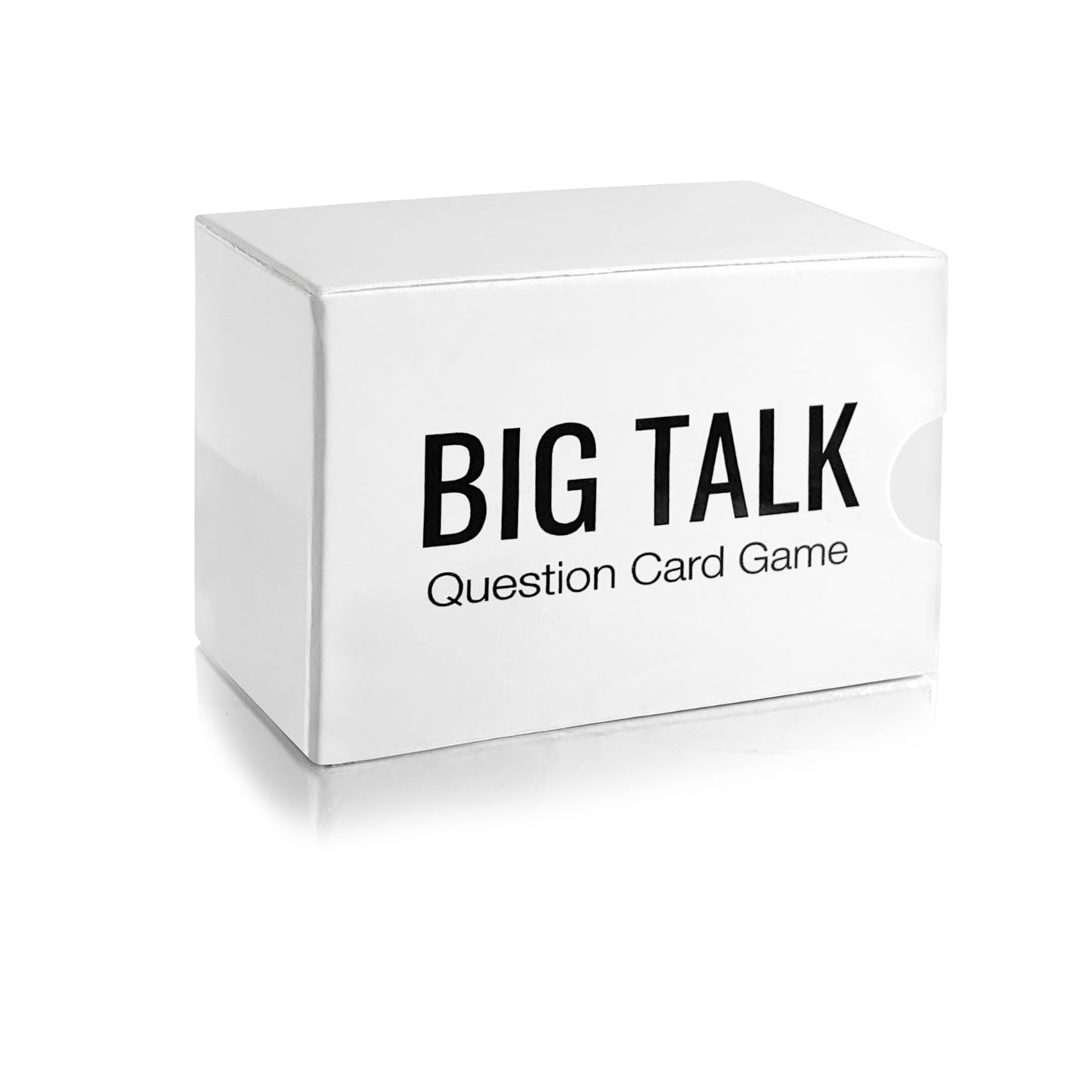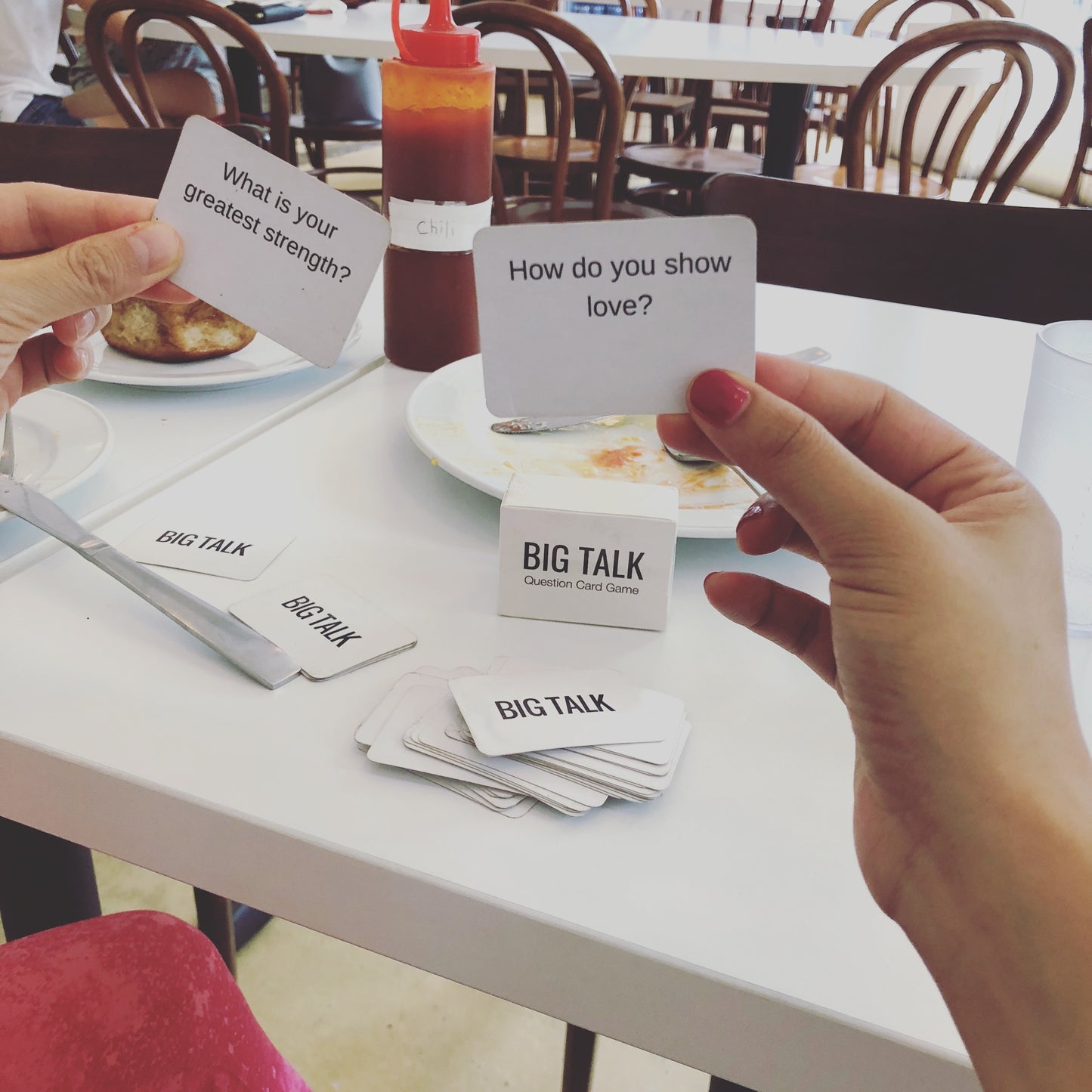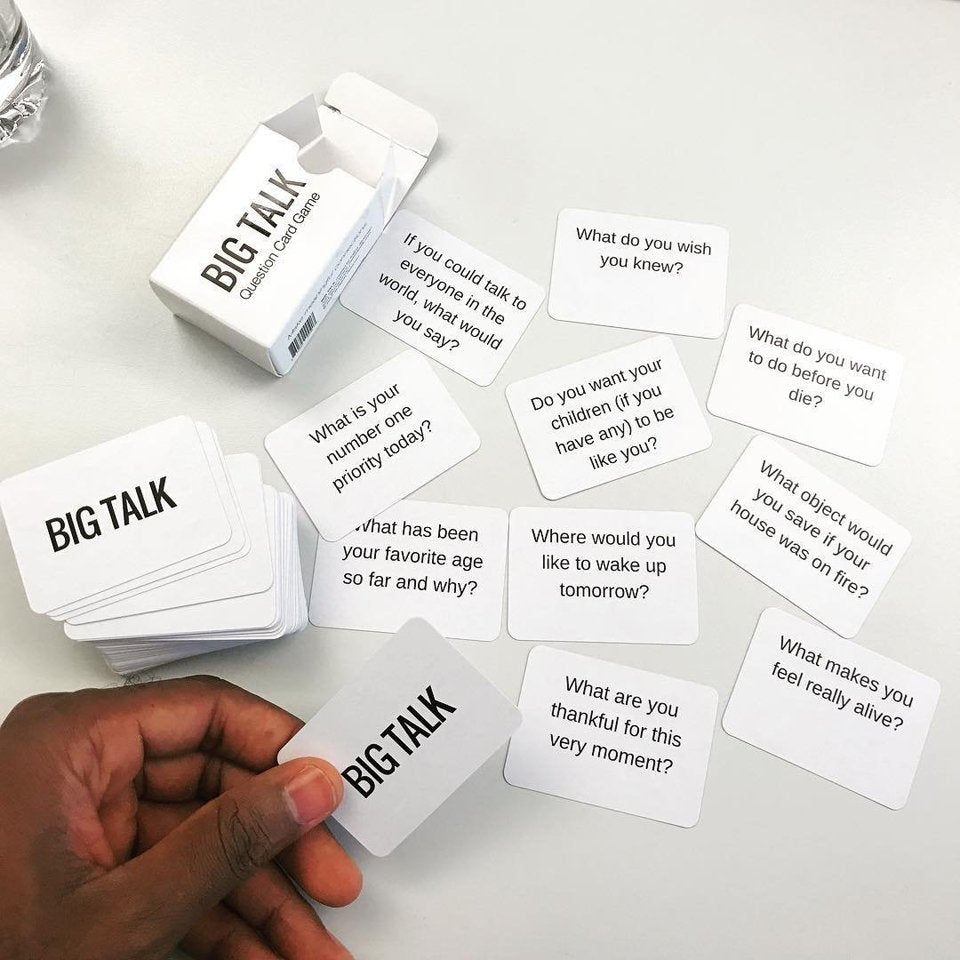 Big Talk Cards can be used by anyone, anywhere.
Play with loved ones.

Big Talk has led to family reunions, closer couples and friends, and multiple marriage proposals!

Play with friends and new acquaintances.

Learn more about someone in five minutes than after years of knowing them.

Play with coworkers, classmates, and teammates.

Use Big Talk to get to know the people you encounter everyday in a more meaningful way.
Use Cases out in the World
Harvard Medical School, Law School, and Business School use Big Talk to Connect

Universities such as Harvard, Northwestern, NYU, USC, and more have used Big Talk as a way to help students bond and deepen connections.

LA Lakers Organization Makes Big Talk

The LA Lakers G Team plays Big Talk on their bus ride to help deepen connections as teammates.

Celebrities make Big Talk

Universal Music Australia released a series featuring celebrities such as Billie Eilish, Keith Urban, and Lorde making Big Talk.

U.S. State Department and Diplomatic Organizations make Big Talk

The U.S. State Department and related organizations have used Big Talk in numerous events - in Australia, Singapore, Trinidad & Tobago, and Uzbekistan, to name a few.
Custom Co-branded and Wholesale Cards are Available
Big Talk offers customized co-branded card games and wholesale pricing. Perfect for corporate and holiday gifting! Just email bigtalkinquiry@gmail.com to learn more.
Learn more
Download the Big Talk Questions App
Explore hundreds of questions in different categories to skip the small talk and make more meaningful connections.
Download now!
Skip the small talk, make meaningful connections
Big Talk began as one woman's quest to go out, meet new people, and skip the small talk to make more meaningful connections with them. Watch the video above to see what happened. Today, the TEDx talk about Big Talk has over 6.5 million YouTube views, sparking a global movement to "make Big Talk" that includes stories from around the world, a Fulbright Research project in communications and empathy, a question card game, app, educational programs, and events around the world. Big Talk has been adopted by the LA Lakers, Harvard Medical School, Universal Music Australia, employees at Amazon Google and Adobe, the U.S. State Department, Veterans Organizations, a jail education startup, and students, families, and individuals worldwide.
Learn more